The one topic that you want to know in the early days but the one that most consultants care least about.
How the heck do you dress a baby in a Pavlik Harness?
Under or over a vest?
It completely depends on your consultants opinion as to whether the harness will be against bare skin or if a vest is permitted beneath the straps. Luckily for us, our consultant recommended 23.5/7 wear, giving us half an hour a day to bath, play and redress him, with a soft vest against his skin. This option feels so much kinder to their delicate skin, and I'm sure it helped us greatly.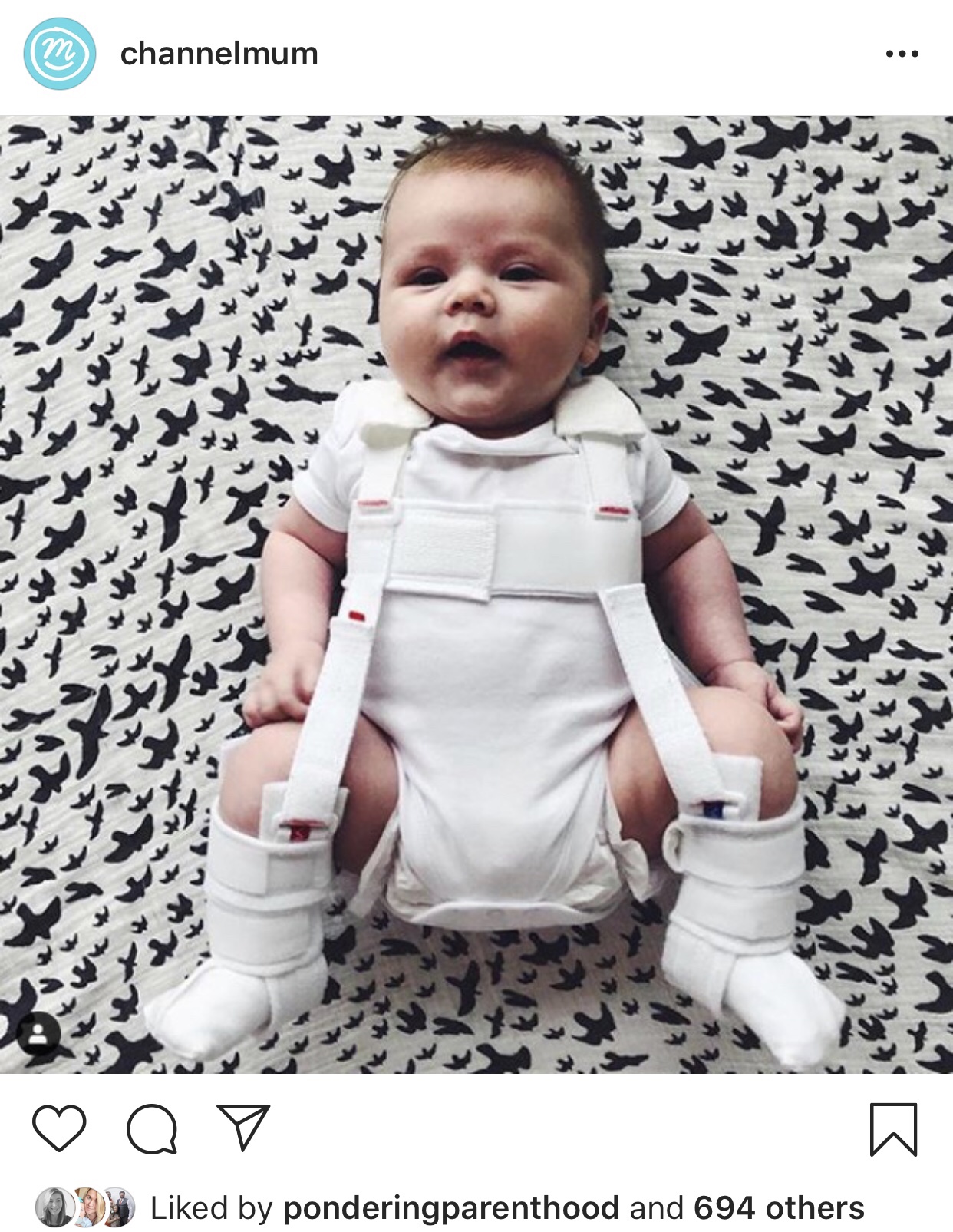 If your little one has to wear the harness directly on their skin, try using soft breast pads under the harness in any areas that rub to protect their skin from any damage. In the early days we also did this around the shoulder straps to prevent rubbing onto the neck, as you can see above.
What about the legs?
We noticed quite quickly that the creases behind Aces knees become sore, shiny and red. We think it was due to the harsh edge of the boot, and wrapped the edge with cotton wool to add some comfort. A comfy pair of long socks (try ones that a good few sizes up, we bought aged 2) that come over the knee will really help too. You can also apply talc to the skin to prevent the area becoming too sweaty, and we did use a little barrier cream during the 30 minute harness free time.
Sticking to 'normal' clothing
Very generally speaking, dressing a little girl in a Pavlik Harness is easier than dressing a boy. Dresses and full rompers disguise the harness well, just be careful to opt for long socks rather than tights, which could pull the thighs back together and work against the harness.
We were lucky in that Ace was just approaching the next age up (3-6 months) so these clothes were roomy enough for him the majority of the time. Having said that, we did move into 6-9 months about 3 weeks in.
Sleepsuits worked well, especially those which were particularly roomy in the groin area and buttoned down the centre of the body. But leggings or joggers had to be of a oversized harem style with lots of room to keep the legs open and frog like. No denim, dungarees or stiff fabrics.
Most tops however fitted over the harness the majority of the time, which saved us money in shopping. Phew!
Just follow the golden rule, if the leg position alters even a millimetre when you are dressing, try something else. There's no point risking hip health to look good, especially when you're making that decision on someone else's behalf.
What about the specialised stores?
Marks and Spencer became my saviour when they launched their Easy Dressing Range a fortnight before Aces harness was fitted. In fact, I only ordered the collection in the hope it would mean we didn't need it. That by some miracle the double nappies had worked! (spoiler, they didn't)
Our consultant and all the nurses couldn't believe it when I dressed him immediately after the harness fitting-. Apparently they suggest most parents leave with baby wrapped solely in a blanket!!
So I was delighted to hear that from then on they recommended parents invest in some pieces from this range, for when the time comes.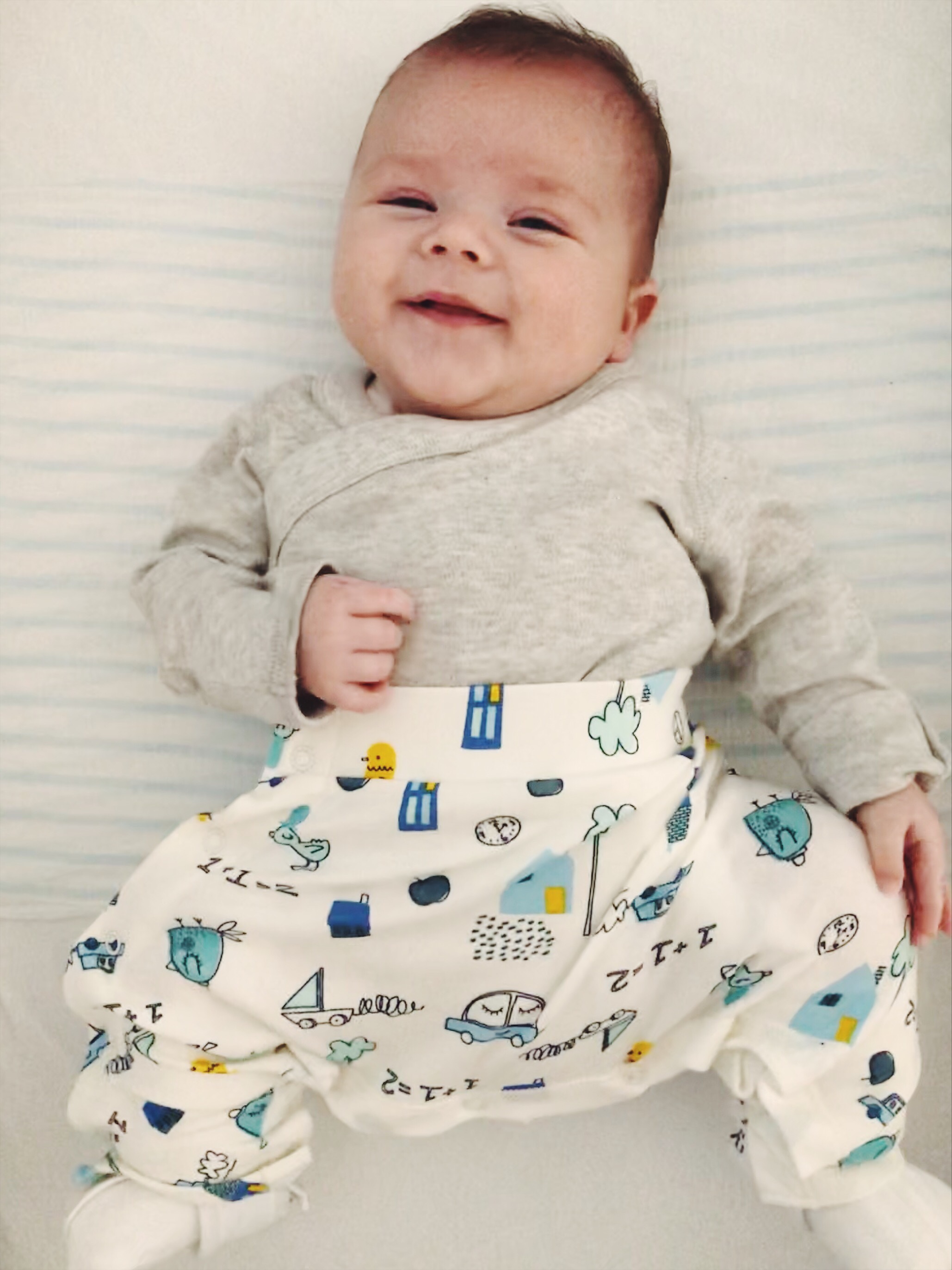 The Marks and Spencer collection features high cut vests, which is particularly helpful if you have to wear the harness directly on skin, plus sleepsuits and trousers, which popper the whole way from crotch to foot. All reasonably priced, true to size and super cute.
You can also find some great options from Slumber Sac who specialise in clothes and sleep bags to fit over a Pavlik Harness, Rhino brace and Spica cast.
Anything else?
Ace wore his harness during the British Winter months, but had it been the summer, I'm sure we would of picked up some cute harness covers to make a feature of those white Velcro straps. Pavlik Protectors are a UK based company and make a range of brightly coloured covers. These super soft covers would also be ideal for protecting babies skin if the harness is worn without a vest.
I'm really hope this post helps anyone in the same position, and as always please feel free to drop me a message if you have any question.
There's a little more about our DDH journey with Ace on my Instagram highlights and you can read more blogs on the topic by clicking here.
Sian x