It's now 6 months since Ace was discharged from his weekly hip dysplasia DDH clinic appointments. That time has flown and I can't believe the follow up appointment I was fearing back then has crept up on us so soon. How do I nearly have a one year old?!
Same place, different experience
For the past six months Ace hasn't worn a pavlik harness or double nappies at any point, and due to me going back to work, he hasn't been 'worn' in his hip healthy Ergo Baby carrier much either. All of which were crucial in improving his hip health initially. So I had no idea how this appointment would go.
At this appointment things work a little differently to his weekly ultrasounds, and he had his first X-Ray instead.
I felt really apprehensive about an X-Ray, thinking he'd find it more daunting and even scary. But in fact, it was much quicker and easier than those pesky ultrasounds. Sometimes it's just the fear of the unknown isn't it?
So what actually happens?
We were taken through to the scanning room, and asked to strip Ace from the belly button down on the bed. A metal plate was then placed over where his nappy would be, to protect his modesty.
As I was asked to hold him in place, I had to wear a weighed tunic for safety. It's worth remembering that you can't do this if you are pregnant or if there is the slightest chance you could be.
For a hip X-Ray they need their legs to be totally straight, so I gently held him by the knees to keep those legs in his least favourite position. It was actually really weird to see Ace like this, because even stood up his knees seem slightly bent. Maybe it's a pavlik baby thing?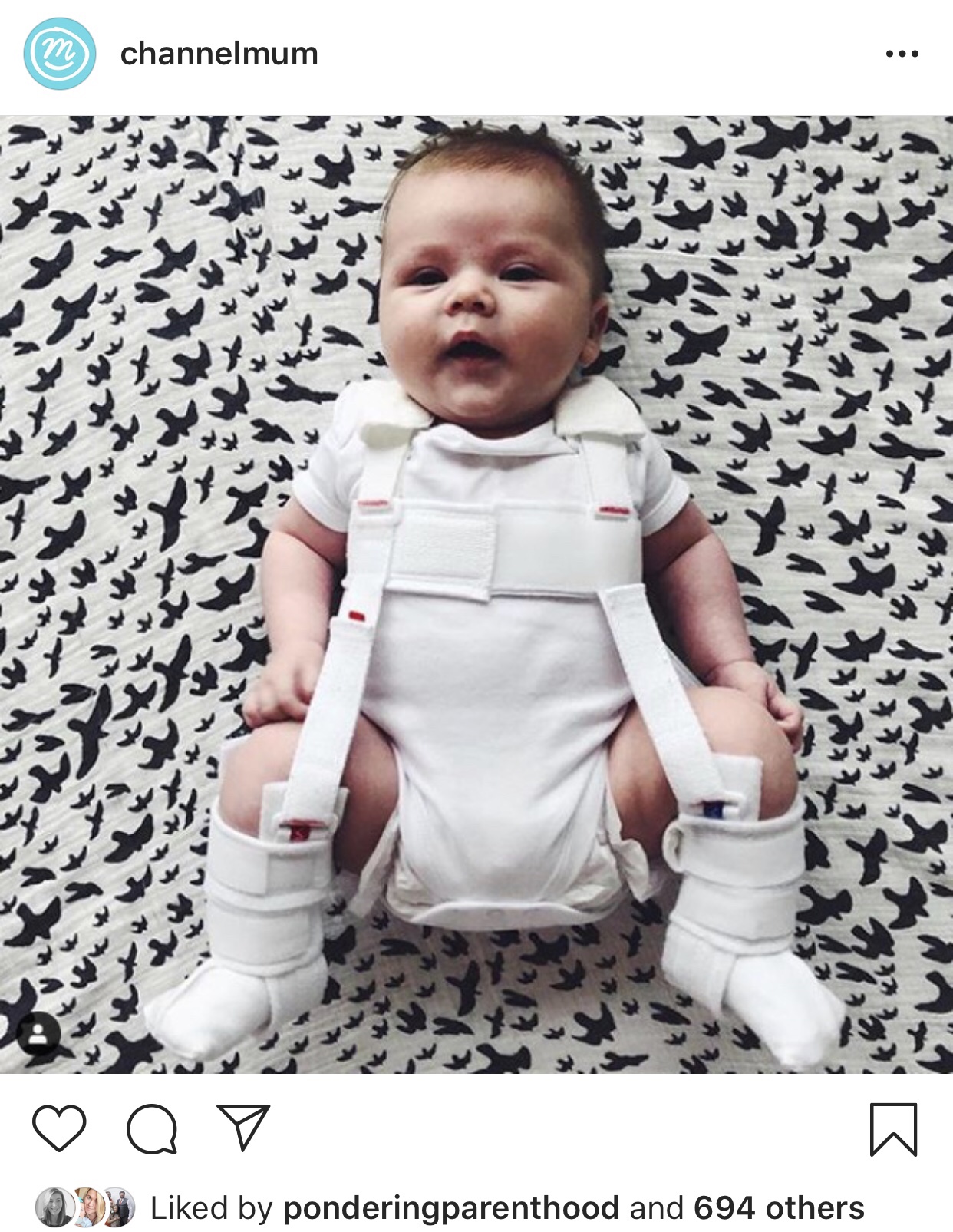 A few quick pics and we were done, 'coat of amour' off and Ace back in a nappy and vest.
And onto the consultant
We weren't kept waiting long and were soon in to meet with Aces consultant who studied his X-Ray. I had a sneaky peek and to me it looked awful- and really wonky like his hips aren't aligned. But shows what I know (you know with my zero medical background 🙈) because he was really pleased with his progress and lack of deterioration.
A full examination later and he was explained that although Aces angles still aren't at the magic 60, the ball joint is sitting well inside the socket and the hip is showing no physical instability.
So he was discharged for another year!
Celebration time!
It was definitely a better appointment than what I'd envisioned 6 months ago, when I couldn't see past the threat of operations, spica casts and misdiagnosis. Slowly the fear of him experiencing chronic hip pain is easing.
I suppose we won't fully know until he's older, and I do wonder if he'll suffer as a teen like I have. Only time will tell.
But for now it feels like we can celebrate this milestone and close the chapter for another 12 months.
First I think we have a certain birthday to prepare for….😬
Sian x